Product advantage:
No IPA, NO detergent, 100% clean by water
Low odor, less irritating
Multiply color with modulation
Cleanout water no dangerous to environment
Non VOC, RoHS,Reach, EN71-3 certificated
Compatible for most 3D printer
Technical specification:
Flexural modulus:618.521±10%
Elongation at break:14.967±10%
Flexural strength :34.748±10%
Hardness(Shore D):85-88D ±10%
Tensile strength:32.89±10%
Tensile modulus:368.23±10%
Viscosity:100-350 MPa·s
Density:1.05—1.25 g/cm3
maximum pulling strength:1367N ±10%
Notched impact strength:78 J/m ±10%
℃Testing room temperature:23℃±2
Testing room humidity :50%RH±5%RH
Testing standard of test strip: ASTM
Post curing: test strip in water for 2 mins post curing with 200mw/cm²405nm
Printing parameter
Only has to adjust the exposure times according the layer height, and leave the rest as it was.
For LCD printer with RGB screen:
e.g. elegoo mars or photo s base 50s, each layer 8s, layer height 50 micron.
For LCD printer with monochrome screen:
e.g. satori base 50s, each layer 3s, layer height 50 micron.
For DLP printer with projector:
Bottom 15s and each layer 1-5s.
e.g. hunter base 15s, each layer 4s, layer height 50 micron.
The exposure time should be adjusted according to printer light energy, layer theight and model structure.
Cleaning and post-curing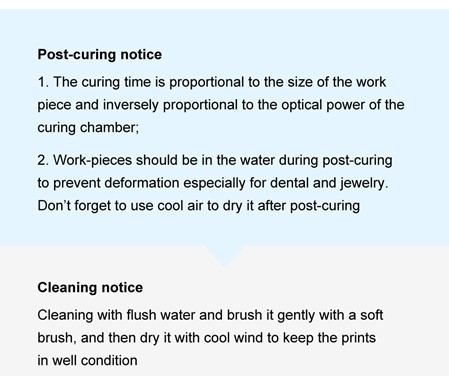 Warning:
1. This material should not be in contact with eyes, skin or clothing, and should not be tasted or eaten.
2. If you accidentally touch your eyes or skin, immediately rinse with water for about 20 minutes and seek medical advice if necessary.
3. Please pay attention to air circulation and take protective measures when using. Wash thoroughly after handling.
4. The product is in a liquid state with a slight odor. Wear a mask and gloves.
5. The product should be stored in a sealed container. After use, it should be filtered and keep back in bottle on time and placed in a dry and well ventilated place. It should not be exposed to sunlight.
6. Shake well before use, and leave it for 30 minutes to eliminate air bubbles that generated during the shaking process.
7. The ambient temperature is recommended to be controlled at 25-30 degrees Celsius, and during the printing should avoid any lights.
8. Dispose of waste in accordance with local environmental regulations.
9. Storage environment: Store in cool and dry place, and avoid sunlight, recommended temperature at 25-30 degrees Celsius.